Obituary – Veli-Ragnar Gustaf Nordström
{Born May 27, 1933. Died July 13, 2003)
Less than two months after celebrating his seventieth birthday, Veli Nordström died very suddenly and unexpectedly at his home in Westend near Helsinki, Finland.
He had ignored medical advice, following two earlier strokes, that he take things "easier". But that was never Veli's way. If he had stopped working, by his standards, he might as well already have been "laid to rest". So he continued to be found in his corner office at the Containerships Helsinki headquarters - ("You'll have to see the man in the corner," they used to tell me on the occasions I visited the Helsinki office) – as likely as not scribbling his figures on sheets of paper . . . stowage plans, voyage accounts . . . he never learned to use, nor did he ever learn to trust, such modern devices as the computer.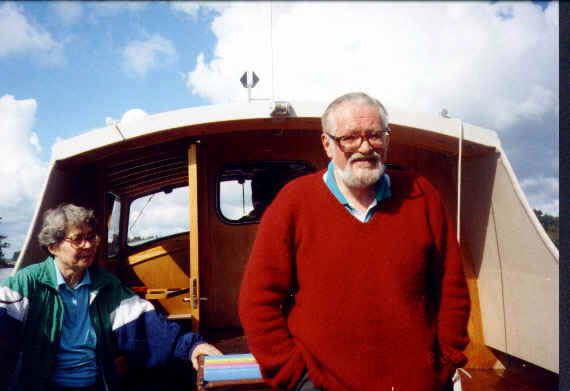 Even when he could be persuaded to take a break, he still enjoyed being on the sea.
I first met him 37 years earlier in the Board Room of Alltransport Ltd when he accompanied his brother Raimo to a meeting with top executives of Shipping and Industrial Holdings (of which Alltransport was the forwarding arm), and James Blair Sherwood of a newly established container leasing company (trying to promote the idea of a dedicated short-sea container service in order to demonstrate the virtues of ISO containers to a reluctant shipping community).
The Nordström family had been involved in stevedoring and ship management in Finland. This was a crucial element in JBS's vision of a container shipping service comprising the additional elements of cargo solicitation and container supply. Alltransport Ltd already had useful connections in Scandinavia – particularly Finland, and a service from the east coast of the UK to Finland, via Denmark and southern Sweden, seemed a suitable route for the experiment.
For some years Veli had been involved with the Finnish AA Lines unit load service in the Baltic and was thus more experienced than most in the type of operation that would typify a dedicated container service. He had also all the necessary credentials for locating and adapting small conventional cargo vessels for the carriage of containers. (This was in the days before the existence of cellular short-sea container vessels.)
Throughout 1966 I worked in close collaboration with him, in Finland and in England, exploring the requirements for a successful service. My task as marketing manager complemented his as line manager. In 1967 the small open-hatch tween-deck cargo vessel, MV Osternburg made its first sailing from the small, and relatively unknown, east coast port of Felixstowe to Turku in Finland, calling at Aarhus in Denmark and Malmo in Sweden en route. Subsequently the port of Zeebrugge in Belgium was added to the itinerary. Someone other than Veli might have been satisfied with the ability of Osternburg to carry around 34 20-ft containers. Not so Veli! By some magical process which he failed to disclose – but worked out by hand on sheets of paper (a medium he employed throughout his life) – he devised a stowage plan, using small (6'7") containers in every spare centimetre of space under the combings, until the vessel's capacity had increased to 38 TEUs.
In the following three years the Containerships service expanded the size and number of its vessels and made several changes to its ports of call until, eventually, the original owners sold their interest in the line and Veli Nordström moved to another service.
Because of the close personal relationship that had developed between Veli and myself, he suggested at that time that we form a jointly-owned company so that we might retain an association and have a basis for collaboration in the future, should circumstances permit. Container Marketing Ltd (CML) was formed. The Finnish company started by Veli, bearing a similar name (Container Marketing Ltd Oy) eventually became the Sea Containers agents for Finland. The original CML, to this day, acts as the "parent" to my own ASPEN writing and publishing services.
Clearly Veli never lost his affection for Containerships, nor his vision for what it could and would achieve, when, in 1978, he began a reconstituted service under the same name (title to which was generously given to him by Sea Containers, to whom it was registered).
The Line has gone from strength to strength over the years, finally exploding into a new dimension with the democratization of Russia and Veli's decision to introduce a regular call at St. Petersburg as part of the Line's schedule. My own relationship with the Line was further cemented in the early 1990s by Veli's request that I take over the management of his UK subsidiary Containerships (UK) Ltd., formed from his purchase of the UK agency.
I am proud to have been associated with Veli Nordström as colleague and friend throughout these 37 years and regard myself as a symbol and proof of his loyalty and devotion to those who have worked (and played) with him, and give tribute to the loyalty and devotion he inspired in me and others.
Obituary notice provided by:
Joe Sinclair