IN MEMORIAM
R.I.P STANLEY LEWIS
Stan Lewis died on November 8, 2014. His funeral service was held at the Golders Green Crematorium on Wednesday November 19, and was followed by a reception at the clubhouse of his regular golf club in Muswell Hill, north London.
You will not find his name amongst the Sea Containers database of alumni on this SCOLD site, because he was actually never a member of the Sea Containers Group.
And, considering that fact, the number of past Sea Containers personnel who turned up at the service and the further numbers who later came to the club house reception bore testimony to the regard in which he was held as the long-time partner of Audrey Goodson, and bore witness similarly to the very high esteem in which Audrey was (and is) herself held.
Audrey and Stan were inseparable for several decades and were married for the last period of his life. Audrey retired from Sea Containers in February 2003 but both before her retirement and thereafter was regularly accompanied by Stan at many of the Sea Containers functions.
I think the tributes that graced the announcement of his death on the Sea Containers Group Facebook site is sufficient proof that, although never officially a member of staff, he was regarded as "one of us" and will be sorely missed.
Joe Sinclair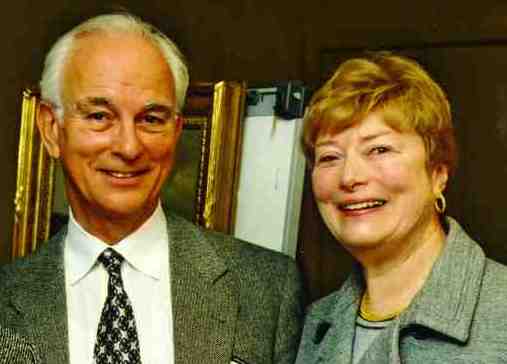 Stan Lewis and Audrey Goodson at Audrey's farewell party in 2003