Obituary Ė Willem Kuster
<![if !supportEmptyParas]> <![endif]>
[Contributed by John Keir]
<![if !supportEmptyParas]> <![endif]>
<![if !supportEmptyParas]> <![endif]>
In the early hours of Tuesday, 11 November 2003, Willem Kuster died suddenly and unexpectedly of a heart attack. His family lost a caring father and a loving husband. Willemís colleagues at GE SeaCo lost an old and dear friend.
<![if !supportEmptyParas]> <![endif]>
Willem Kuster joined the Pakhoed Group, Sea Containers agents in Rotterdam, in March 1985 and faithfully served the company both in the Netherlands and then more recently working for GE SeaCo out of Antwerp. Based in the single most important container region in the world, Willem dealt with a wide range of customers from ship owners to manufacturers, rail operators and local shipping agents. In the fast moving world of Dutch shipping, his clients remember with affection his calm, unruffled manner. Colleagues too recall his welcoming smile as he met with us at the local airport on one of the endless rounds of customer visits that Willem undertook as part of his daily routine. Of course, we all, customers and colleagues alike, remember that famous crop of red hair that acted like a beacon at conferences and exhibitions. Indeed, many of us met with Willem for the last time at the annual Intermodal Container Exhibition in Rotterdam, where that distinctive mop of hair made him stand out from the crowd. Willem had many other outstanding qualities.††
<![if !supportEmptyParas]> <![endif]>
Having started in the industry inspecting containers, Willem had a detailed knowledge of Sea Containers equipment and could reel off technical specifications of most unit types without reference to a manual. However, for someone with a strong technical background, Willem never did figure out how to change the CD in his car Ė it always seemed to be playing Dire Straits.
<![if !supportEmptyParas]> <![endif]>
Willem also had an encyclopaedic knowledge of all customers and offices in and around Rotterdam, which allowed him to pack in yet another customer call at short notice. Willem was also a very hospitable man and invited many of us to meet his family at their home in Hellevoetsluis in Western Holland. If this happened to coincide with a major football match then all the better. Willem was a keen footballer regularly playing in five-a-side matches after work. He was also a keen follower of his national and local teams.† Not for Willem, though, the big Dutch clubs of Ajax and Feyenoord. Throughout his life, he remained loyal to his team Twente, from the same town of Enschede that brewed his favourite beer, Grolsch.†
<![if !supportEmptyParas]> <![endif]>
Willem was first and foremost a family man. Lynn, his English born wife, settled in Holland and raised two fine sons, James and Steven. The Kuster family entertained an endless stream of colleagues dropping in unexpectedly from the Zalm Hotel to catch a football match.† Willemís two boys shared their fatherís love of football and music.
<![if !supportEmptyParas]> <![endif]>
Willemís funeral was held at his local church. It was attended by a large number of family, friends and colleagues from Rotterdam, Antwerp and London. James Coulson read the oration on behalf of his business colleagues. Willem Kuster was born on 23 January 1948 and was finally laid to rest on the afternoon of Friday 14 November in the graveyard of his hometown, Hellevoetsluis.
<![if !supportEmptyParas]> <![endif]>
<![if !supportEmptyParas]> <![endif]>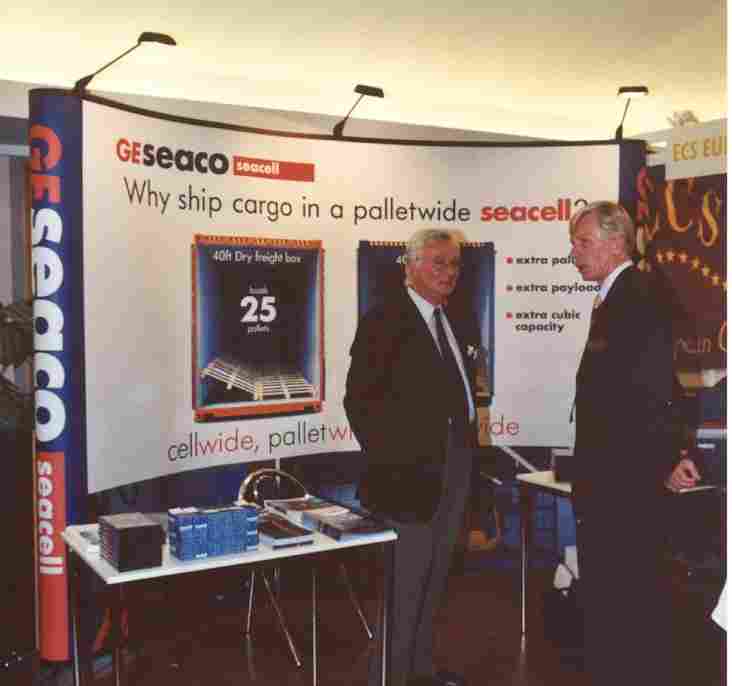 <![if !supportEmptyParas]> <![endif]>
[The picture was taken at the Short Sea Conference and Exhibition in Brugge, Belgium in October 2003. James Coulson (seen here with Willem) was later to read the oration at the funeral on behalf of Willem's business colleagues.]