Email message received on October 7, 2014
Dear Joe,
Delighted to hear from you and your endeavor to keep the 'old gang' from Sea Containers up to date. I'm still in touch with JBS. Shortly before Barbara's health started to decline we spent two days with Jim and Shirley in Beverly Hills. I lost her about 7 months later......we had been married two weeks shy of 59 years. In April of this year I bought a home in Fallbrook, CA (where we had lived many years ago.....San Diego some 50 miles south) to be close to my youngest daughter and her family and it has meant so much to me. One daughter lives north of Santa Barbara, CA, another in Santa Fe, NM and my son lives in the Los Angeles area.<![if !supportLineBreakNewLine]><![endif]>
<![if !supportLineBreakNewLine]>
<![endif]>
Not making films now, but still involved with attendance at numerous film festivals in the States, primarily associated with Westerns, which still have quite a following. Actually, will be attending one for several days this week in central California. <![if !supportLineBreakNewLine]> <![endif]>
<![if !supportLineBreakNewLine]>
<![endif]>
If you'd like a recent photo and updated bio let me know the best way to send; or you can locate me at my website, EdwardFaulkneractor.com
NOTE FROM WEBSITE ADMINISTATOR
There are probably not too many ex-associates of Ed Faulkner still involved with Sea Containers these days – and, alas, our numbers are too regularly diminishing.  But he was one of the Group's several real characters from the early days . . . people who (for good or ill) are unlikely to be forgotten by those who knew them.  Freddie Clemo (Philippines) was one.  Veli Nordstrom (Finland) another.  A third was Abraham Elbaz (Spain).  These are just three that spring immediately to my mind.  I am sure some of the old-timers reading this will have their own names to add.
Ed was particularly in evidence in the 1970 and joined us via Vic Bayduck's (there's another one!) California Cargo Containers on the US West Coast.  But Ed had two specialised claims to fame: firstly that he had been a schoolboy friend of Jim Sherwood in Kentucky, and secondly that he was a fairly well-known face in the American movie scene, and particularly amongst western movie aficionados, regularly appearing in John Ford movies alongside his "chess-playing buddy" John Wayne.  In fact, my contacting him again at this time came from the serendipitous vision of his face on my television screen after I had switched on, apparently in the middle of a movie called Rio Lobo.
It's good to hear from him again.  Good to know that Jim Sherwood has maintained contact.  But sad to learn that his lovely and gracious wife Barbara is no longer with us.  My family and I spent some time with the Faulkners during trips back to England from Hong Kong via California in the late 1970s – a joyous and delightful time whose charm will never be erased from my memory.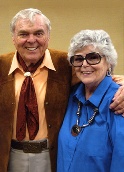 Joe Sinclair