Obituary – F.J.D. Clemo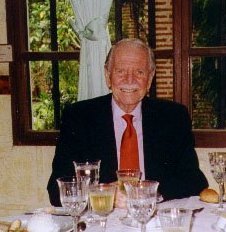 Freddie Clemo died in Manila, Philippines, in1999.
Although we had been prepared for the news following the recent GE SeaCo conference in Manila and the report of his ill health, it was nevertheless a great shock and with a real sense of sadness and loss that we learned of the death of Freddie Clemo.
Such a wonderful man. Such an incredible character. He will be missed by so many people around the world. And the writer of this obituary had a very special reason to be grateful to him and to mourn his departure.
Frederick James Duncan Clemo was born in Hong Kong, where his father was general manager of China Light and Power, and was educated in England. He was commissioned into the Hong Kong Volunteers shortly before the Japanese invasion in 1941 and spent the last years of the war as a Japanese prisoner of war working in shipyards in Japan.
After the war, a period of time spent in mainland China was followed by a move to Manila as freight manager for US Lines. It was there that he met Jim Sherwood who was also, at that time, working for US Lines. He and JBS shared a bachelor apartment with a Dodwell Shipping Agency employee, Mike Simmons.
What could be more natural, therefore, but that these three "pals" should subsequently be reunited as colleagues. When JBS formed Sea Containers, Freddie Clemo became his agent in the Philippines, and Mike Simmons, in due course, became Managing Director of Sea Containers Far East Ltd in Hong Kong.
Freddie had the happy knack of making people laugh. An accomplished raconteur, he used his "people skills" to put deals together and, although it was usually left to others to apply the "nitty gritty", it is undoubtedly the case that the opportunity to do so might not have been there but for his personal involvement. Cranes, Shifters, and ships leased and chartered by Sea Containers abounded at the port of Manila thanks to his introductions and personal conections.
I first met Freddie Clemo at the Sea Containers worldwide agents' conference at the Cipriani Hotel in Venice in 1972. It was a conference which, as General Manager for the Mediterranean area, I had organised and this brought me into closer contact with delegates than might normally have been the case. Freddie and I enjoyed immediate rapport. Two years later, at the Hong Kong conference, I renewed my acquaintance with him and we became firm friends. It was nevertheless a surprise to learn that he was trying to persuade both JBS and his VP, Don Turner, to appoint me marketing manager for the Far East, based in Hong Kong.
My five years in Hong Kong resulted entirely from Freddie Clemo's canvassing on my behalf. They were five of the best, most rewarding in a business sense, and most joyful years of my life, during which my friendship with Freddie and his family deepened and became highly valued. I subsequently met him several times on my return visits to the Far East, the last occasion being last year when I stayed at his home.
I miss him very much. He will always remain "the most unforgettable character I ever met", and my sympathy is extended to his wife Janet and daughters, Stephanie, Fiona, and Kendra.
By Joe Sinclair
(first published in GE SeaCo newsletter of Spring 1999)