Received on March 10, 2012
I joined Sea Containers in August 1979, working at first with John Witton on North Row, collecting damage repairs, before moving to SC British Isles leasing department in Sea Containers House, where I shared an office with Jeff Dixon.
In 1987 I was approached by a company called Ravenstock who did domestic leasing and offered me a salary SC did not want to compete with.† In 1989, however, SC offered me† a job starting a domestic business with John Witton, Steve Thomas and Leigh-Ann Bath.† It was based at the container depot of Bullman Marine in Dagenham and was the subject of much leg-pulling by people who saw it as a joke and not core business. When John retired I took over.† We moved to an office in Rainham, Essex and ran the business until around† 2007, after which (the GE influence!) we were moved to London Bridge.† This marked the beginning of the end.
Most of the staff came and left within three months and although I had been made a director, I stayed only long enough to see its sale to TAL in 2008.† They paid over 6 million dollars for the business.† Not bad for a joke!
Three years ago a business called Freight Container Services (Newark) Limited was started from scratch together with Howard Clack, a former Freightliner senior manager, and Eric Adams, the owner of Duncan Adams Transport who are the Maersk merchant haulier for Scotland.† We domestically lease and sell new and used containers of all types, including tanks and reefers, and offer rail consultancy for cargo, road transport and delivery.† It is wonderful to have total control.
But I do wish to acknowledge that without the valuable knowledge I gained from SC and GE this business would not exist.† It was good to be paid to learn. †My only regret is that I didnít do it 20 years ago!
I have often seen Tom Avenell who lives not too far from me.† A wonderful, kind and generous man with whom it is good to recall funny old times.
I moved from north London some years ago.† I lived in N17 during the first riots and used to walk down to White Hart Line to see Tottenham Hotspur.† My mother came from Finchley and my father from Muswell Hill.† But I havenít been back for a long time and now live in Horsham, West Sussex.† I used to live in Bishops Stortford, as did Mike Simmons and Mike Thomas.† My sonís first school was the same one that Mike Thomasís daughter attended, and his second school was in the road in which Mike Simmons lived.† Furthermore I believe Simmons went to the world famous Hockerill School which my son attended.† Truly a small world!
I have not lived there for six years and have never been back as I was only there because of my sonís education which, unlike my own, was paid for!!
I think Mike Simmons has passed away.† Mike Thomas had a self-storage business at Stansted and rented equipment from the SC Domestic business that I ran.† Trevor Milner helped him out.† But, alas, heís another one who has departed.
Terry Jones, a former shipís engineer, worked for me in the domestic business.† He died a couple of years ago, very suddenly from cancer.
My son Thomas is a Senior IT Business Analyst and lives in Redhill, Surrey and works in Reigate.† Not very exciting, ha, ha.
I attach a recent photograph.
<![if !vml]>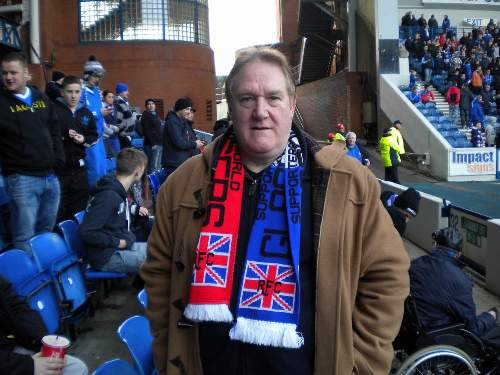 <![endif]>