THE BOOK PAGE

Multiple Intelligences and Positive Life Habits
Lynne Beachner and Anola Pickett
[Sub-titled 174 Activities for Applying them in our Classroom]
192 pages. Publisher: Sage.
Cloth £51.00; (0761977279)
Paper £23.00 (0761977287)
As a young teacher in the early 'sixties my training involved learning not only about subject/curriculum areas but also about what was then termed as "The Hidden Curriculum". Over the years this hidden curriculum, which was essentially to do with how children lived in the community, has become a more explicit part of school life.
In Multiple Intelligences and Positive Life Habits the authors refer to these essential skills as "Life Habits", the crux of which may be summed up in the words "Children must learn to get along with each other and share some common beliefs about relationships" (page 3).
Life Habits are split into five sections, with each section having subsections. As an example the section on Relationships includes self-awareness, a sense of humour, caring, integrity and respect. Each section is cross-referenced to an activity, which promotes this particular life habit.
There are eight chapters in the book and each one describes a multiple intelligence. These intelligences have been categorised by Howard Gardener, (a professor at Harvard University). He has studied and recognised what many teachers already know – that different children learn in different ways. It echoes the way that education in many schools is evolving, that children have skills, which may be accessed in a variety of ways, not just via the traditional academic route.
Each chapter focuses on one intelligence and describes activities to foster and enhance each concept, for example in the first chapter which describes the Verbal/Linguistic Intelligence one of the activities – Four of a kind- describes an activity aimed at promoting organisational skills within that band.
Many of the activities are ones that I have used or seen used in schools throughout my teaching career. They can be easily adapted to fit into a curriculum-led timetable or into such activities as Circle Time (used by many teachers to enable children to voice their own concerns and work out strategies to cope with or learn from their experiences). The importance of this publication is that these activities are concentrated in one source.
It is an excellent resource not only for new teachers entering the profession but also for the more experienced to access a range of strategies in dealing with and recognising children's ways of learning. It nurtures a Can Do attitude that celebrates success.
E. Ann Burt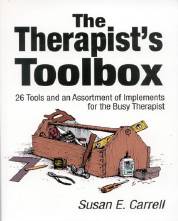 The Therapist's Toolbox
Susan E. Carrell
[Sub-titled 26 tools and an assortment of implements for the busy therapist]
194 pages. Publisher: Sage.
Paper £11.99 (0761922644)
The Therapist's Toolbox is sure to be welcomed by any busy therapist or counsellor who chances upon it. It provides simple, practical, and really effective techniques for improving connectivity between practitioners and their clients.
When Susan Carrell's Group Exercises for Adolescents was reviewed by us two years ago we were really enthusiastic about the benefits that would obtain to teachers as well as therapists from this excellent resource. Now Carrell has gone further in simplifying her effective and empowering advice for practitioners "in a hurry".
The use of the "workman's toolbox" as a metaphor for her practical therapeutic techniques is remarkably effective. One section comprises hammers, saws, screwdrivers and pliers for projects. Another uses grouting, glue, putty and filler as symbols for work with couples. Measuring tape, spirit levels and plumb-bobs are tools for special projects. While nails, tack and hooks are those small but essential ingredients without which no toolbox would be effective.
The practical examples, written in a friendly, simple style with much humour, bring it all to life and enable the therapist (and I really mean myself here) to get to grips instantly with our practical therapy sessions. Providing, that is, that the book is to hand. It is not, therefore, a book to be placed on the bookshelf, but a resource to be kept constantly available.
Sep Meyer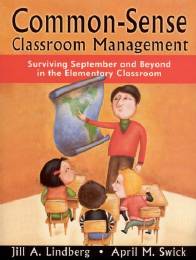 Common-Sense Classroom Management
Jill A. Lindberg and April M. Swick
[Sub-titled Surviving September and Beyond in the Elementary Classroom]
100 pages. Publisher: Sage.
Cloth £54.00; (0761978852)
Paper £25.00 (0761978860)
Recently I was appointed as a mentor to trainee teachers and I often get asked questions about how to deal with children in the everyday run of school life. After nearly 25 years of teaching, a lot of issues concerned with managing children come naturally to me. Experience with so many different children has given me a wealth of strategies to deal with the everyday small things, but to the student these small things become overwhelmingly big.
One day last week I was talking to one of the students that I mentor. We were discussing the difficulties of dealing with the growing numbers of children who have behavioural problems in the classroom. However the numbers are still in the minority. But then of course that means that the majority of children behave well.
" What do I do to encourage those children who are always well behaved, do their work, listen carefully and produce homework on time?" she asked.
I was reminded of this when I began this review. In a chapter entitled "Creating a positive classroom atmosphere" it is suggested that star status be awarded to pupils for their positive attitudes to school. Their star complete with their name is posted onto a "Wall of Fame" and at the end of the week the names are read out to the class and can be included in a class newsletter to the parents (another excellent idea). Hopefully the rest of the class will aspire to join this wall of fame.
The ideas in this book, although dealing with predominantly American schools, contain many suggestions that can be adapted to any classroom. The reader is taken through a school year and offered a range of strategies to deal with creating effective classroom management, an essential to good teaching and learning. Teachers spend a great deal of time planning lessons but without attention to small details of running a classroom these plans can be thwarted by having to devote time to organising.
Commonsense in the Classroom deals with most of these details – ranging from how to organise your own workspace, through how to organise class groups and homework effectively, to the minute detail of how to move children from one area to another.
Especially good are the illustrations and examples of forms that children can use. I love the idea of children applying for jobs in the classroom found in the chapter "Creating a positive classroom atmosphere."
And I particularly recommend the chapter on Rewards. Teachers often get hung up on consequences and punishments without considering the majority of the class who are performing well. This chapter looks at the rewards forgood students; for example, special class time where you give the children enjoyable activity such as Art. Personally I find that an extra five minutes playtime works wonders. It also serves to encourage the children who are less well behaved to aspire to goodness!
In addition it gives ideas about what to do with children who are excluded from the reward fun activities. Being a fiendish teacher I subscribe to the idea that " being in the same room where all the fun is happening can be more miserable than being removed."
There are some ideas that may not appeal in an English classroom – it is not the rule for teachers to over-exert the budget by calling parents too frequently or sending letters by registered post, but asking to see parents about concerns usually is a good if not better substitute.
The final paragraph of the book provides invaluable advice – " be sure you are on the lookout for something good as the day progresses" – a really positive note to end on!
As a mentor this book has provided me with a checklist of points to look for when observing students, ideas for targets for which they may aspire plus a good resource to enable them to build up a repertoire of good practice. I will be lending this book to my current student so that she may acquire some strategies to deal with quite a lively class – a euphemism used by teachers to indicate a challenging bunch of kids!
E. Ann Burt
Great Ways to Sabotage a Good Conversation
Paul W. Schenk, Psy.D.
"Hot off the press" is this slim volume from one of our contributing editors, Dr Paul Schenk of Atlanta, Georgia. I feel a slight vested interest in this work since much of the content originated in a series of articles Paul wrote for New Learning when I was editor of that journal. So I certainly know, and admire, the skill with which he first identifies and then demystifies many of the linguistic "traps" into which we fall when having seemingly normal or everyday conversations. He deals in masterly fashion with language intervening between a message and its content, which is perhaps not too surprising given his NLP background allied to his clinical psychotherapeutic skills.
The book is beautifully produced and illustrated cleverly with a series of charts, quotations, and cartoon illustrations.
More information on the book and how to order it may be found on Paul's own website at www.drpaulschenk.com.
Joe Sinclair