Sylvia Farley – New Nurturing Potential's contributing editor in the area of ecology and the environment – believes in suasion by example. At an age when many, if not most, people are content to exchange a working life for a life of leisure, she uprooted herself from her comfortable Isle of Wight existence and planted personal and an exceptionally diverse range of other roots in a Spanish smallholding.  She has been delighting her social networking followers for months with her descriptions of the hardships (and frequent joys!) she has endured in this bucolic existence.  Now she is presenting the same exciting vistas to the readers of Potential Unleashed.
We continue the "weblog" of Sylvie's Spanish venture (adventure may be more appropriate terrminology) with this digest of her Facebook posts during the month of July 2013.
---
<![if !vml]>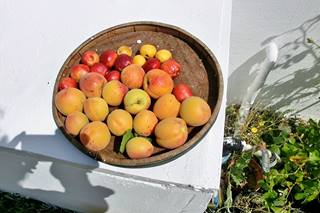 <![endif]>
My first reasonable haul of apricots, loquats and nectarines from the finca .
I keep sweeping up baby toads in the house - can't imagine where they are coming from.
Just rescued my bedsheet from the garden next door. I dry my washing on the roof terrace secured with double the usual number of pegs, but to no avail. There have been some very fierce winds. Last month my neighbour met me at the market and announced in a very loud voice that she had my knickers. There were a number of stifled sniggers...  (end June 2013)
The first of the apples are ripe. I can hardly believe it. They are huge and dark red in colour. All six apple trees have fruit, all different varieties, intended to ripen in turn until November, I am also delighted that the Bramley is growing big and strong and is full of fruit. Real English apple pies ! Currently living on stewed peaches and stewed plums with custard.
10.07.13
Building a bamboo cage over my bed - not because I am a wild thing, but to support a mosquito net . Another low cost creative solution with a little help from my fiends (typo friends, but perhaps....) who just brought me a bundle of thick bamboo poles about 5 inch diameter and 7 feet long from the river bank below their finca.  A few leather strips, some phone wire tacks, some string, half a dozen metal "D" rings and a hour or two of geriatric acrobatics - maybe by tonight I shall be protected from these blasted biting black flies. They raise hard lumps and 3 day swellings and breed not only in river but in domestic water sources, so I need to remember to replace plugs and close lids.  14.07.13
A very Heath-Robinson home-made mosquito net cage = made from bamboo canes from Sarah's finca bound with rope (sheets) from my sailing days, old net curtains and bedspread, leather straps from an old costume, fixed with BT telephone wire clips and "D" rings from craft kit - it pays to be a hoarder, especially in Spain.  15.07.13
After spending yesterday beating myself up because I could not get moving, today I decided I am going to live, so I finished mozzy cage, sorted bedroom, made 2 sorts of jam, tidied up kitchen and collected radish seeds. Did not write articles, nor sort front garden, but perhaps tomorrow as well as working at the finca where cats want feeding, everything wants watering yet again and there will be more strawberries, apples and tomatoes to harvest.  16.07.13
One can eat the young roots, of course.  The leaves make a lovely mustard spinach.  The young seed pods make crunchy additions to salads and stir-fries and the seeds can be sprouted or used as seasoning and some kept for sowing in autumn.  In all, an easy, quick, reliable, healthy and versatile vegetable, well worth the effort.  Next task, tomato ketchup from about 30 lbs of tomatoes from only 12 plants.   17.07.13
A satisfying morning, in a primitive way. Thunder and lightning all night promising rain that never fell. Then early a.m. a spatter followed by a grateful downpour lasting over an hour. I got soaked winding in the blinds, so no need to fix the gas cylinder for a long-awaited shower, and rain-water is good for my hair. Then I sat in the covered part of my roof garden enjoying the storm and hulling radish seeds. The rain had long ceased and I was gently sweating for a couple of hours before I finished, to find myself with 2 oz of radish seed, if I am lucky. This self-sufficiency lark is very time-consuming, but at least I don't have to balance myself head down on the pontoon trying to replace my heavy submersible pump in a deeper part of the river, which was my original task for today, and the water level may have risen before I need to water again. So, another thank you, Lord. I still have to go to the finca later on to refill the water tank if the river is up, and rescue a pan of gazpacho soup I left slow-cooking yesterday in the sunshine, on top of a steel bunker, as well as a bowl of sourdough bread proving in the lean-to, and a jug of kefir yoghurt setting in the shower cubicle.
I also made my first olive leaf tea yesterday and it was good - clear brown-gold and flavourful. It is said to lower BP and cholesterol, so another plus for my survival plan. One can eat the young roots, of course. The leaves make a lovely mustard spinach. The young seed pods make crunchy additions to salads and stir-fries and the seeds can be sprouted or used as seasoning and some kept for sowing in autumn. In all, an easy, quick, reliable, healthy and versatile vegetable. well worth the effort.   Next task, tomato ketchup from about 30 lbs of tomatoes from only 12 plants. 17.07.13 
Another fun day and most disreputable. Finished writing at 4.15 am and slept tilll 10.00 then to Bar Pota for coffee with three separate successive sets of friends who each arrived just as I had resolved to start work . Then to market and shops followed by lunch also at Bar P. Salad, pork fillet, garlic bread and chips - wicked. Home for iced beer and siesta till 4.00 pm although I should have been fixing my pump in the searing heat - but I shall be there all day tomorrow and early morning will be cooler. Off to finca in a few minutes, after tidying up here, suitably protected from mozzies and river fly and provided with ice and a flagon of home-made sangria to share with friends who have invited me for farewell BarBQ as they are returning to UK tomorrow. Feel bone idle and self-indulgent, and rather defiantly pleased with life...  19.07.13
This morning wonder woman made a pan of tomato ketchup with balsamic vinegar, then went for a medical appointment where, as usual, they forecast gloom and doom and castigated me for refusing statins, steroids, diuretics, beta blockers etc, etc, and insisting on sticking to alternative therapies, which don't have their awful side effects. I have felt so much better this way and I am sure most of their guidelines are designed solely for the benefit of pharmaceutical companies. I prefer a comfortable and contented life, if shorter, to a miserable prolonged existence. But I am hoping to prove that simplest is best and to stick around for at least another 30 years.  30.07.13
<![if !vml]>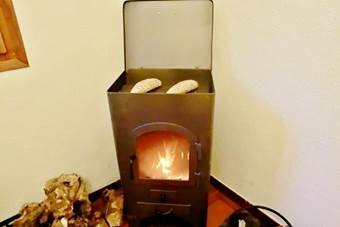 <![endif]>
My wood-burning stove